| | |
| --- | --- |
| | |
Barroso urges nations to embrace globalization
Jakarta Post
January 26, 2017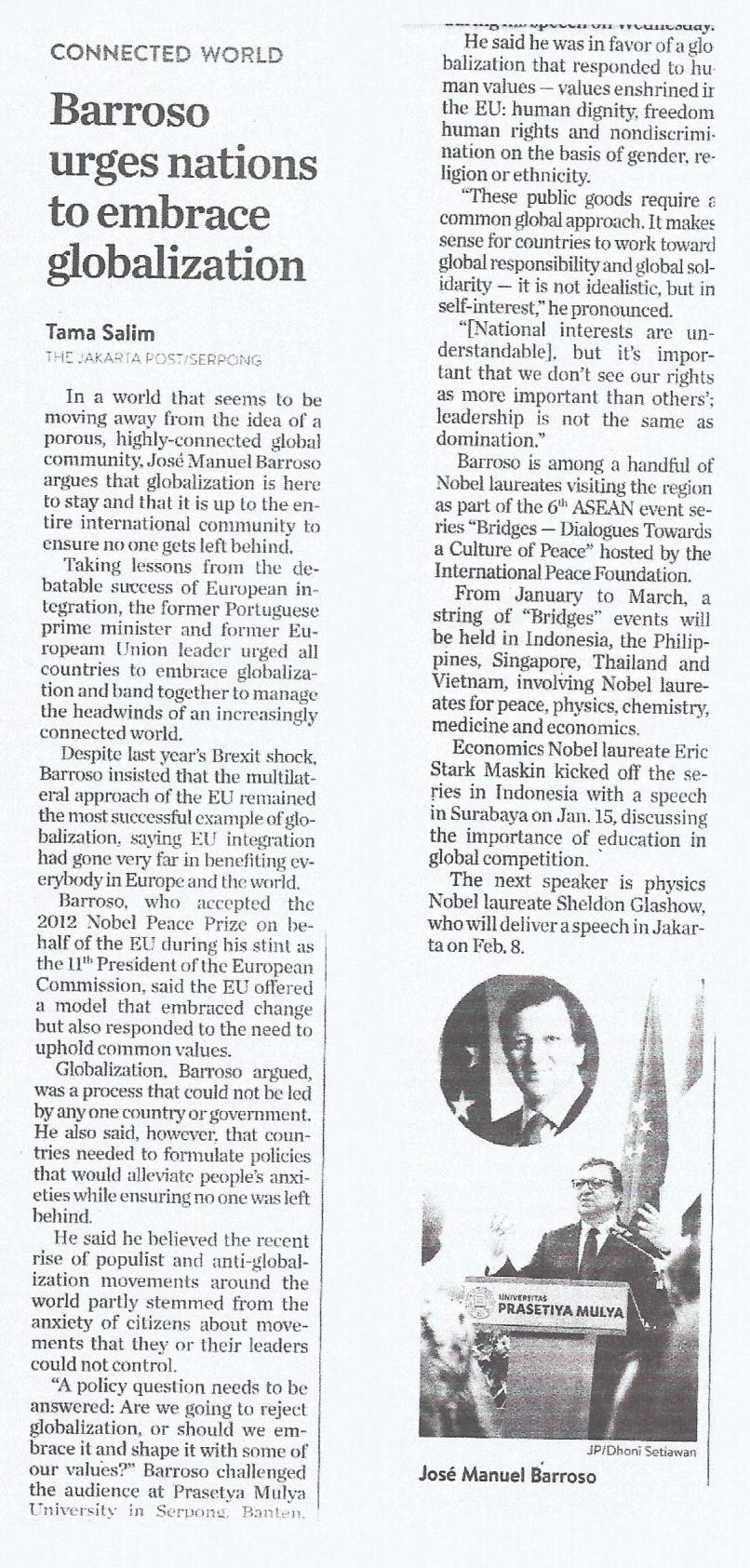 http://www.thejakartapost.com/news/2017/01/26/barroso-urges-nations-embrace-globalization.html

Barroso urges nations to embrace globalization

In a world that seems to be moving away from a porous highly-connected global community, Jose Manuel Barroso argues that globalization is here to stay and that it is up to the entire international community to ensure that no one gets left behind.

Taking lessons from the debatable success of European integration, the former Portugese prime minister and former European Union leader urged all countries to embrace globalization and bang together to manage the headwinds of an increasingly connected world.

Despite last year's Brexit shock, insisted that the multilateral approach of the EU remained the most successful example of globalization, saying that EU integration had gone very far in benefitting everybody in Europe and the world.

Barroso, who accepted the 2012 Nobel Peace Prize on behalf of the EU during his stint as the 11th President of the European Commission, said the EU offered a model that embraced change but also responded to the need to uphold common values.

Globalization, Barroso argued, was a process that could not be led by any one country or government. He also said, however, that countries needed to formulate policies that would alleviate peoples anxieties while ensuring that no one was left behind.

He said he believed the recent rise of populist and anti-globalization movements around the world partly stemmed from the anxiety of citizens about movements that they or their leader could not control.

"A policy question needs to be answered: Are we going to reject globalization, or should we embrace it and shape it with some of our values?" Barroso challenged the audience at Prasetiya Mulia University in Serpong, Banten.

He said he was in favor of globalization that responded to human values - values enshrined in the EU: human dignity, freedom, human rights and nondiscrimation on the basis of gender, religion or ethnicity.

"These public goods require a common global approach. It makes sense for countries to work towards global responsibility and global solidarity - it is not idealistic, but in self-interest," he pronounced.

"(National interests are understandable), but it's important that we don't see our rights as more important than others': leadership is not the same as domination."

Barroso is among a handful of Nobel laureates visiting the region as part of the 6th ASEAN event series "Bridges - Dialogues Towards a Culture of Peace" hosted by the International peace Foundation.

From January to march, a string of "Bridges" events will be held in Indonesia, the Philippines, Singapore, Thailand and Vietnam, involving Nobel laureates for peace, physics, chemistry, medicine and economics.

Economics laureate Eric Stark Maskin kicked off the series in Indonesia with a speech in Surabaya on Jan. 15, discussing the importance of education in global competition.

The next speaker is physics Nobel laureate Sheldon Glashow, who will deliver a speech in Jakarta on Feb. 8.