| | |
| --- | --- |
| | |
Nobel Winner to promote Peace in RI
The Jakarta Post
October 13, 2016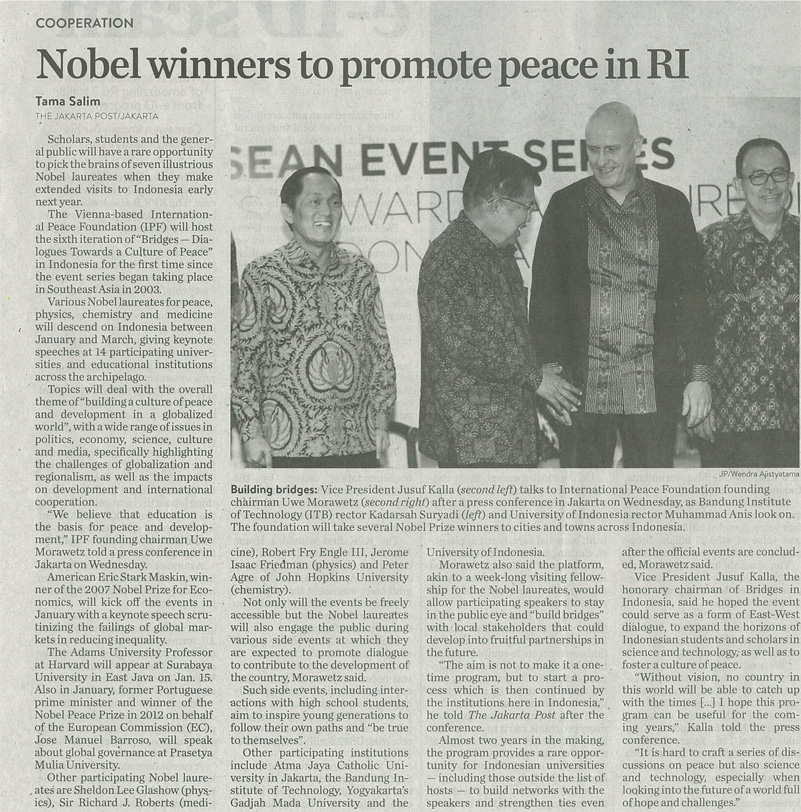 http://www.thejakartapost.com/news/2016/10/13/nobel-winners-promote-peace-ri.html

Scholars, students and the general public will have a rare opportunity to pick the brains of seven illustrious Nobel laureates when they make extended visits to Indonesia early next year.

The Vienna-based International Peace Foundation (IPF) will host the sixth iteration of "Bridges - Dialogues Towards a Culture of Peace" in Indonesia for the first time since the event series began taking place in Southeast Asia in 2003.

Various Nobel laureates for peace, physics, chemistry and medicine will descend on Indonesia between January and March, giving keynote speeches at 14 participating universities and educational institutions across the archipelago.

Topics will deal with the overall theme of "building a culture of peace and development in a globalized world", with a wide range of issues in politics, economy, science, culture and media, specifically highlighting the challenges of globalization and regionalism, as well as the impacts on development and international cooperation.

"We believe that education is the basis for peace and development," IPF founding chairman Uwe Morawetz told a press conference in Jakarta on Wednesday.

American Eric Stark Maskin, winner of the 2007 Nobel Prize for Economics, will kick off the events in January with a keynote speech scrutinizing the failings of global markets in reducing inequality.

The Adams University Professor at Harvard will appear at Surabaya University in East Java on Jan. 15. Also in January, former Portuguese prime minister and winner of the Nobel Peace Prize in 2012 on behalf of the European Commission (EC), Jose Manuel Barroso, will speak about global governance at Prasetya Mulia University.

Other participating Nobel laureates are Sheldon Lee Glashow (physics), Sir Richard J. Roberts (medicine), Robert Fry Engle III, Jerome Isaac Friedman (physics) and Peter Agre of John Hopkins University (chemistry).

Not only will the events be freely accessible but the Nobel laureates will also engage the public during various side events at which they are expected to promote dialogue to contribute to the development of the country, Morawetz said.

Such side events, including interactions with high school students, aim to inspire young generations to follow their own paths and "be true to themselves".

Other participating institutions include Atma Jaya Catholic University in Jakarta, the Bandung Institute of Technology, Yogyakarta's Gadjah Mada University and the University of Indonesia.

Morawetz also said the platform, akin to a week-long visiting fellowship for the Nobel laureates, would allow participating speakers to stay in the public eye and "build bridges" with local stakeholders that could develop into fruitful partnerships in the future.

"The aim is not to make it a one-time program, but to start a process which is then continued by the institutions here in Indonesia," he told The Jakarta Post after the conference.

Almost two years in the making, the program provides a rare opportunity for Indonesian universities - including those outside the list of hosts - to build networks with the speakers and strengthen ties even after the official events are concluded, Morawetz said.

Vice President Jusuf Kalla, the honorary chairman of Bridges in Indonesia, said he hoped the event could serve as a form of East-West dialogue, to expand the horizons of Indonesian students and scholars in science and technology, as well as to foster a culture of peace.

"Without vision, no country in this world will be able to catch up with the times [...] I hope this program can be useful for the coming years," Kalla told the press conference.

"It is hard to craft a series of discussions on peace but also science and technology, especially when looking into the future of a world full of hope and challenges."