| | |
| --- | --- |
| | |
Laureates and academics hold rare North Korean talks
The Nation
May 3, 2016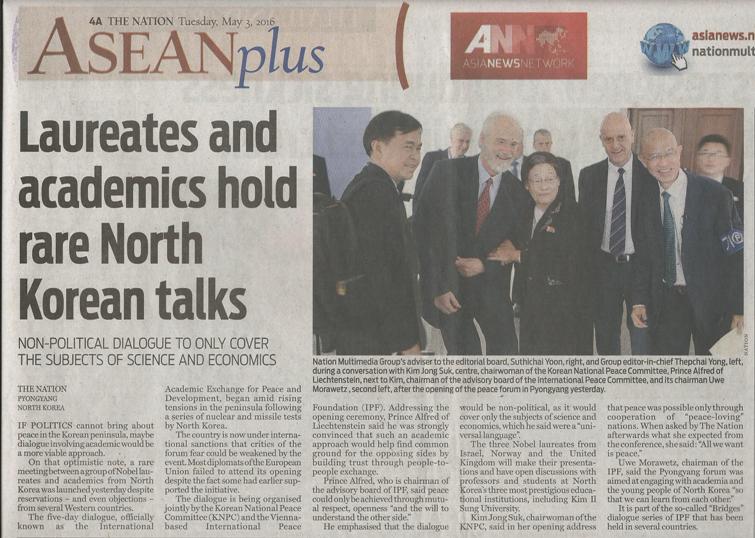 Non-political dialogue to only cover the subjects of science and economics

If politics cannot bring about peace in the Korean peninsula, maybe dialogue involving academic would be a more viable approach.

On that optimistic note, a rare meeting between a group of Nobel laureates and academics from North Korea was launched yesterday despite reservations - and even objections - from several Western countries.

The five-day dialogue, officially known as the International Academic Exchange for Peace and Development, began amid rising tensions in the peninsula following a series of nuclear and missile tests by North Korea.

The country is now under international sanctions that critics of the forum fear could be weakened by the event. Most diplomats of the European Union failed to attend its opening despite the fact some had earlier supported the initiative.

The dialogue is being organised jointly by the Korean National Peace Committee (KNPC) and the Vienna-based International Peace Foundation (IPF). Addressing the opening ceremony, Prince Alfred of Liechtenstein said he was strongly convinced that such an academic approach would help find common ground for the opposing sides by building trust through people-to-people exchange.

Prince Alfred, who is chairman of the advisory board of IPF, said peace could only be achieved through mutual respect, openness "and the will to understand the other side."

He emphasised that the dialogue would be non-political, as it would cover only the subjects of science and economics, which he said were a "universal language".

The three Nobel laureates from Israel, Norway and the United Kingdom will make their presentations and have open discussions with professors and students at North Korea's three most prestigious educational institutions, including Kim Il Sung University.

Kim Jong Suk, chairwoman of the KNPC, said in her opening address that peace was possible only through cooperation of "peace-loving" nations. When asked by The Nation afterwards what she expected from the conference, she said: "All we want is peace."

Uwe Morawetz, chairman of the IPF, said the Pyongyang forum was aimed at engaging with academia and the young people of North Korea "so that we can learn from each other."

It is part of the so-called "Bridges" dialogue series of IPF that has been held in several countries.