| | |
| --- | --- |
| | |
Beutler is not immune to victory
Bangkok Post
24 February 2015

http://www2.bangkokpost.com/lifestyle/social-and-lifestyle/482445/beutler-is-not-immune-to-victory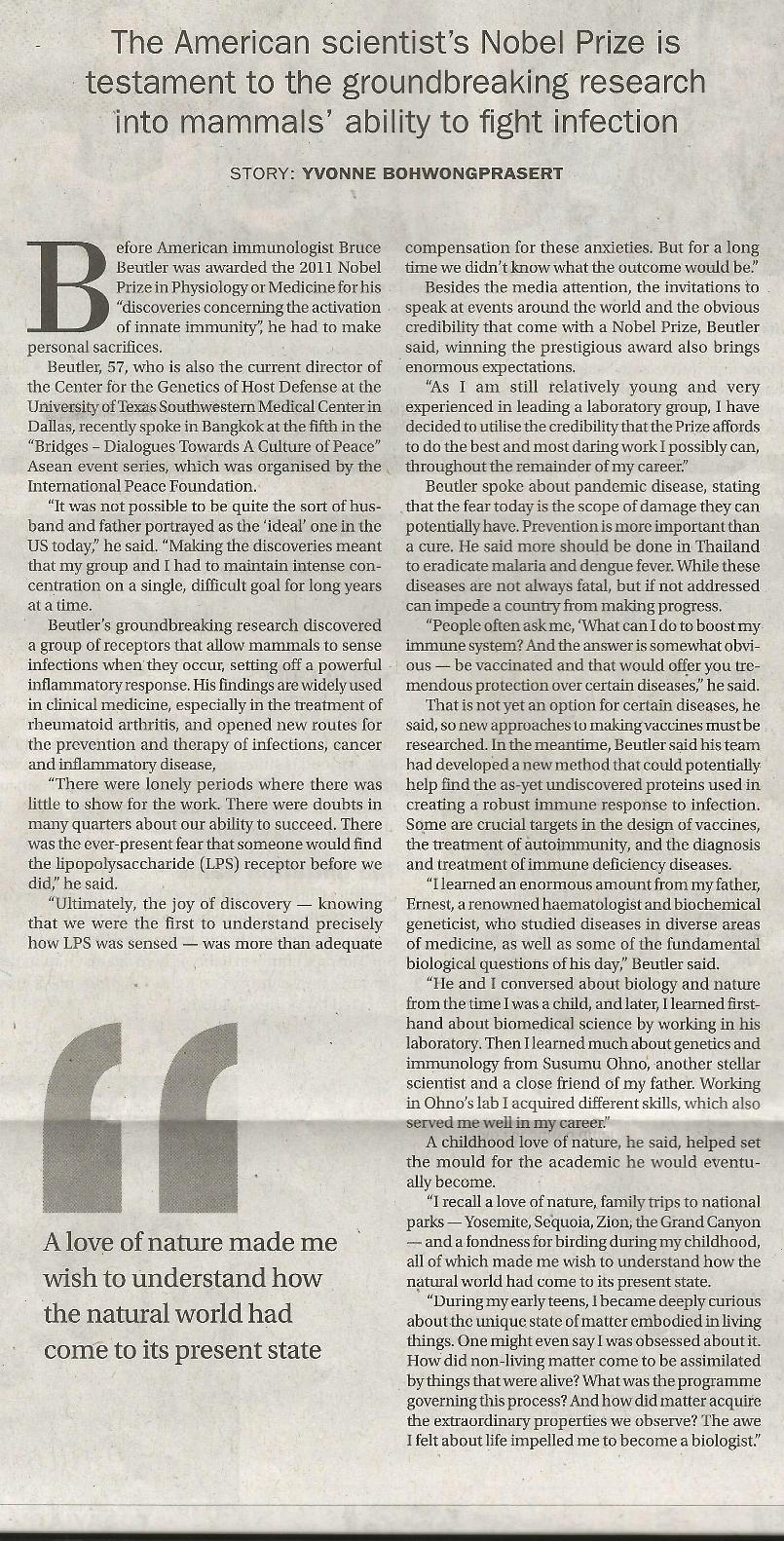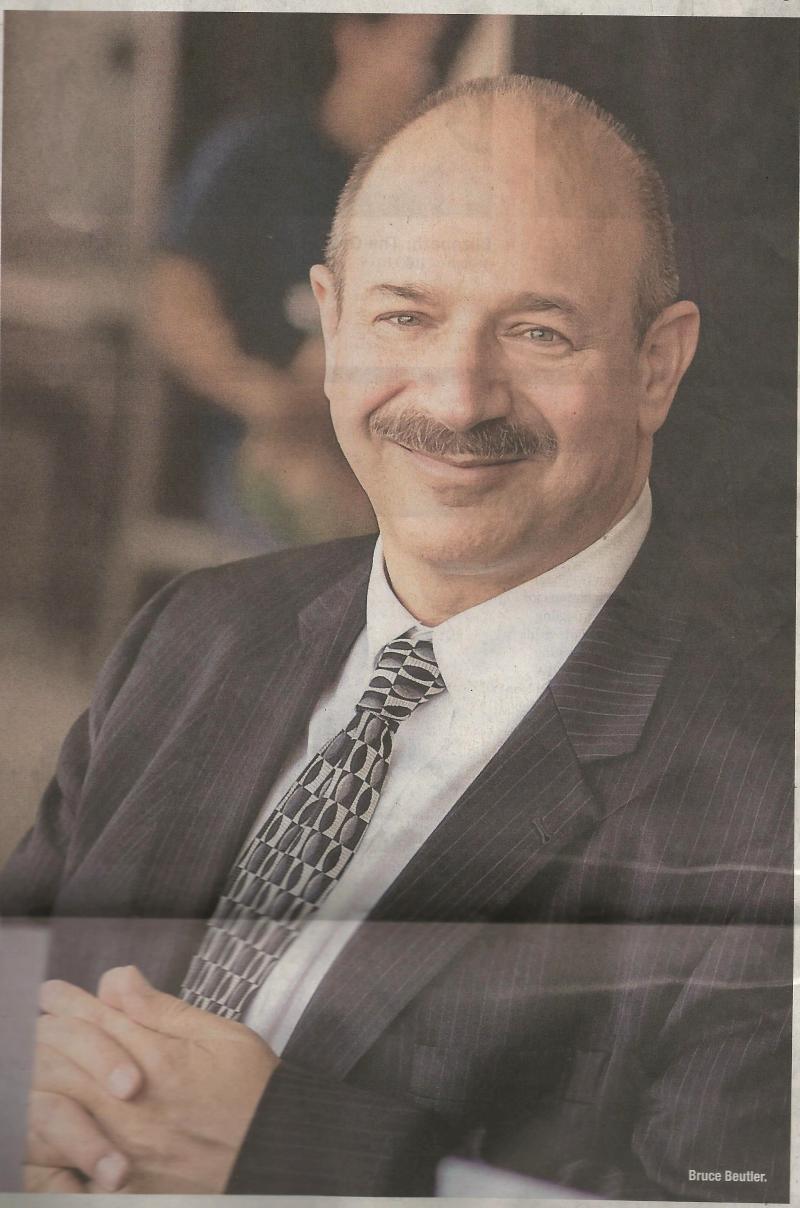 Before American immunologist Bruce Beutler was awarded the 2011 Nobel Prize in Physiology or Medicine for his "discoveries concerning the activation of innate immunity", he had to make personal sacrifices.

Beutler, 57, who is also the current director of the Center for the Genetics of Host Defense at the University of Texas Southwestern Medical Center in Dallas, recently spoke in Bangkok at the fifth in the "Bridges – Dialogues Towards A Culture of Peace" Asean event series, which was organised by the International Peace Foundation.

"It was not possible to be quite the sort of husband and father portrayed as the 'ideal' one in the US today," he said. "Making the discoveries meant that my group and I had to maintain intense concentration on a single, difficult goal for long years at a time.

Beutler's groundbreaking research discovered a group of receptors that allow mammals to sense infections when they occur, setting off a powerful inflammatory response. His findings are widely used in clinical medicine, especially in the treatment of rheumatoid arthritis, and opened new routes for the prevention and therapy of infections, cancer and inflammatory disease,

"There were lonely periods where there was little to show for the work. There were doubts in many quarters about our ability to succeed. There was the ever-present fear that someone would find the lipopolysaccharide (LPS) receptor before we did," he said.

"Ultimately, the joy of discovery — knowing that we were the first to understand precisely how LPS was sensed — was more than adequate compensation for these anxieties. But for a long time we didn't know what the outcome would be."

Besides the media attention, the invitations to speak at events around the world and the obvious credibility that come with a Nobel Prize, Beutler said, winning the prestigious award also brings enormous expectations.

"As I am still relatively young and very experienced in leading a laboratory group, I have decided to utilise the credibility that the Prize affords to do the best and most daring work I possibly can, throughout the remainder of my career."

>Beutler spoke about pandemic disease, stating that the fear today is the scope of damage they can potentially have. Prevention is more important than a cure. He said more should be in Thailand done to eradicate malaria and dengue fever. While these diseases are not always fatal, but if not addressed can impede a country from making progress.

"People often ask me, 'What can I do to boost my immune system? And the answer is somewhat obvious — be vaccinated and that would offer you tremendous protection over certain diseases," he said.

That is not yet an option for certain diseases, he said, so new approaches to making vaccines must be researched. In the meantime, Beutler said his team had developed a new method that could potentially help find the as-yet undiscovered proteins used in creating a robust immune response to infection. Some are crucial targets in the design of vaccines, the treatment of autoimmunity, and the diagnosis and treatment of immune deficiency diseases.

"I learned an enormous amount from my father, Ernest, a renowned haematologist and biochemical geneticist, who studied diseases in diverse areas of medicine, as well as some of the fundamental biological questions of his day," Beutler said.

"He and I conversed about biology and nature from the time I was a child, and later, I learned first-hand about biomedical science by working in his laboratory. Then I learned much about genetics and immunology from Susumu Ohno, another stellar scientist and a close friend of my father. Working in Ohno's lab I acquired different skills, which also served me well in my career.''

A childhood love of nature, he said, helped set the mould for the academic he would eventually become.

"I recall a love of nature, family trips to national parks — Yosemite, Sequoia, Zion, the Grand Canyon — and a fondness for birding during my childhood, all of which made me wish to understand how the natural world had come to its present state.

"During my early teens, I became deeply curious about the unique state of matter embodied in living things. One might even say I was obsessed about it. How did non-living matter come to be assimilated by things that were alive? What was the programme governing this process? And how did matter acquire the extraordinary properties we observe? The awe I felt about life impelled me to become a biologist."