| | |
| --- | --- |
| | |
Nobel laureate buoyed by progress of cancer research
The Nation
4 February 2105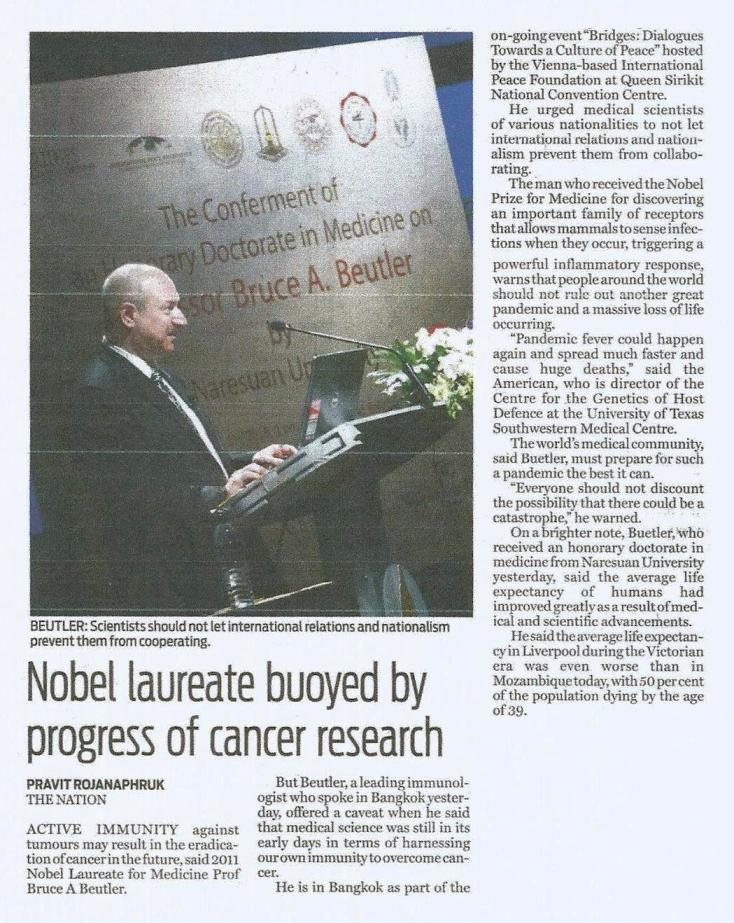 http://www.nationmultimedia.com/national/Nobel-laureate-buoyed-by-progress-of-cancer-resear-30253323.html

ACTIVE IMMUNITY against tumours may result in the eradication of cancer in the future, said 2011 Nobel Laureate for Medicine Prof Bruce A Beutler. But Beutler, a leading immunologist who spoke in Bangkok yesterday, offered a caveat when he said that medical science was still in its early days in terms of harnessing our own immunity to overcome cancer.

He is in Bangkok as part of the on-going event "Bridges: Dialogues Towards a Culture of Peace" hosted by the Vienna-based International Peace Foundation at Queen Sirikit National Convention Centre.

He urged medical scientists |of various nationalities to not let international relations and nationalism prevent them from collaborating.

The man who received the Nobel Prize for Medicine for discovering an important family of receptors that allows mammals to sense infections when they occur, triggering a powerful inflammatory response, warns that people around the world should not rule out another great pandemic and a massive loss of life occurring.

"Pandemic fever could happen again and spread much faster and cause huge deaths," said the American, who is director of the Centre for the Genetics of Host Defence at the University of Texas Southwestern Medical Centre.

The world's medical community, said Buetler, must prepare for such a pandemic the best it can.

"Everyone should not discount the possibility that there could be a catastrophe," he warned.

On a brighter note, Buetler, who received an honorary doctorate in medicine from Naresuan University yesterday, said the average life expectancy of humans had improved greatly as a result of medical and scientific advancements.

He said the average life expectancy in Liverpool during the Victorian era was even worse than in Mozambique today, with 50 per cent of the population dying by the age of 39.