| | |
| --- | --- |
| | |
'Invest more' on science education
The Nation
21 January 2015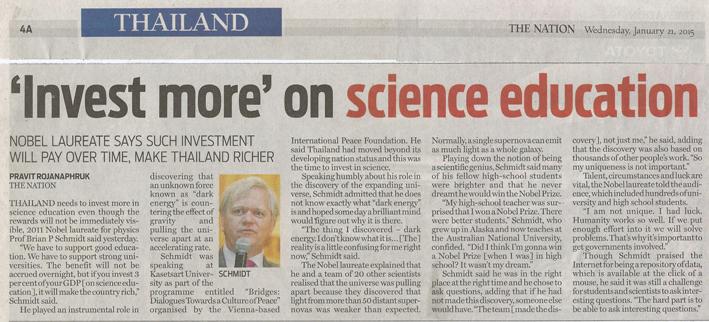 www.nationmultimedia.com/national/Invest-more-on-science-education

Nobel laureate says such investment will pay over time, make Thailand richer. THAILAND needs to invest more in science education even though the rewards will not be immediately visible, 2011 Nobel laureate for physics Prof Brian P Schmidt said yesterday.

"We have to support good education. We have to support strong universities. The benefit will not be accrued overnight, but if you invest 3 per cent of your GDP [on science education], it will make the country rich," Schmidt said.

He played an instrumental role in discovering that an unknown force known as "dark energy" is countering the effect of gravity and pulling the universe apart at an accelerating rate.

Schmidt was speaking at Kasetsart University as part of the programme entitled "Bridges: Dialogues Towards a Culture of Peace" organised by the Vienna-based International Peace Foundation. He said Thailand had moved beyond its developing nation status and this was the time to invest in science.

Speaking humbly about his role in the discovery of the expanding universe, Schmidt admitted that he does not know exactly what "dark energy" is and hoped some day a brilliant mind would figure out why it is there.

"The thing I discovered - dark energy. I don't know what it... [The] reality is a little confusing for me right now," Schmidt said.

The Nobel laureate explained that he and a team of 20 other scientists realised that the universe was pulling apart because they discovered that light from more than 50 distant supernovas was weaker than expected. Normally, a single supernova can emit as much light as a whole galaxy.

Playing down the notion of being a scientific genius, Schmidt said many of his fellow high-school students were brighter and that he never dreamt he would win the Nobel Prize.

"My high-school teacher was surprised that I won a Nobel Prize. There were better students," Schmidt, who grew up in Alaska and now teaches at the Australian National University, confided. "Did I think I'm gonna win a Nobel Prize [when I was] in high school? It wasn't my dream."

Schmidt said he was in the right place at the right time and he chose to ask questions, adding that if he had not made this discovery, someone else would have. "The team [made the discovery], not just me," he said, adding that the discovery was also based on thousands of other people's work. "So my uniqueness is not important."

Talent, circumstances and luck are vital, the Nobel laureate told the audience, which included hundreds of university and high school students.

"I am not unique. I had luck. Humanity works so well. If we put enough effort into it we will solve problems. That's why it's important to get governments involved."

Though Schmidt praised the Internet for being a repository of data, which is available at the click of a mouse, he said it was still a challenge for students and scientists to ask interesting questions. "The hard part is to be able to ask interesting questions."