| | |
| --- | --- |
| | |
Nobel Laureate To Speak
Bangkok Post, 15 September 2015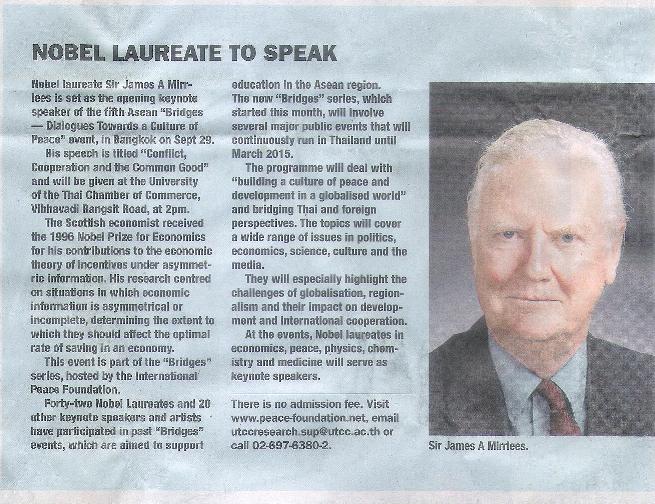 Nobel Laureate to Speak

Nobel Laureate Sir James Mirrlees is set as the opening keynote speaker of the fifth ASEAN "Bridges - Dialogues Towards a Culture of Peace" event, in Bangkok on Sept. 29.
His speech is titles "Conflict, Cooperation and the Common Good" and will be given at the University of the Thai Chamber of Commerce, Vibhvadi Rangsit Road, at 2pm.
The Scottish economist received the 1996 Nobel Prize for Economics for his contributions to the economic theory of incentives under asymmetric information. His research centered on situation in which economic information is asymmetrical or incomplete, determining the extent to which they should affect the optimal rate of saving in an economy.
This event is part of the "Bridges" series, hosted by the International Peace Foundation.
Forty-two Nobel Laureates and 20 other keynote speakers and artists have participated in past "Bridges" events, which are aimed to support education in the Asean region.
The new "Bridges" series, which started this month, will involve several major public events that will continuously run in Thailand until March 2015.
The programme will deal with "building a culture of pace and development in a globalised world" and bridging Thai and foreign perspectives. The topics will cover a wide range of issues in politics, science, culture and the media.
They will especially highlight the challenges of globalization, regionalism and their impact on development and international cooperation.
At the events, Nobel laureates in economics, peace, physics, chemistry and medicine will serve as keynote speaker.