| | |
| --- | --- |
| | |
"Bridges - Dialogues Towards a Culture of Peace" to be held in Vietnam
http://www.vir.com.vn/news/investlink/bridges-%E2%80%93-dialogues-towards-a-culture-of-peace-to-be-held-in-vietnam.html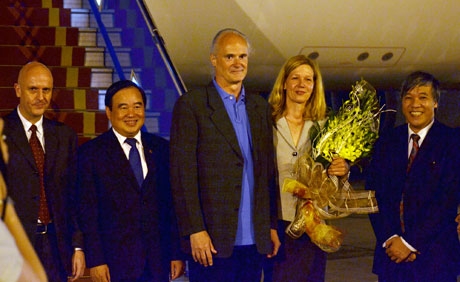 During his 10 days visit to Hanoi and Ho Chi Minh City he will be received, among others, by Prime Minister Nguyen Tan Dung, Pham Binh Minh, Minister of Foreign Affairs, Pham Vu Luan, Minister of Education and Training, and Le Hoang Quan, Chairman of the Ho Chi Minh City People's Committee.

While Prince Alfred of Liechtenstein is chairman, CEO and Board Member of different companies in the fields of engineering, investment, trading, banking and consulting, he is also actively involved in various not-for-profit organisations and chairs the Advisory Board of the International Peace Foundation based in Vienna.

Starting in November 2012 the event series "Bridges - Dialogues Towards a Culture of Peace" will be continuously held in different parts of Vietnam involving the participation of Nobel Laureates for economics, peace, physics, chemistry and medicine as well as other eminent keynote speakers.

The series of events is facilitated by the Vienna-based International Peace Foundation and locally hosted by the Ministry of Education and Training in cooperation with various national and international partners. Also UNESCO is part of the "Bridges" programmes which since 2003 have been held in Southeast Asia as an independent contribution to the United Nations' Decade for a Culture of Peace and Non-Violence.

The Vietnam series of "Bridges" follows the successful "Bridges" series with a total of 450 events which the International Peace Foundation have already hosted in Thailand, the Philippines, Malaysia and Cambodia since 2003.

The International Peace Foundation has since then been invited by other ASEAN countries to build further bridges towards peace and international understanding by expanding its "Bridges" programme in Southeast Asia to stimulate the intellectual, scientific and cultural exchange in the region.

"Bridges" will continuously take place in Vietnam from November 2012 to April 2013, comprising a series of up to 50 events with Nobel Laureates from all fields. The Nobel Laureates will visit the country not all at once, but separately to conduct public lectures, seminars, workshops and dialogues hosted by local institutions during a continued period of six months.

The topics of the ongoing events will deal with the overall theme of "building a culture of peace and development in a globalised world" and with a wide range of issues in the fields of politics, economy, science, culture and the media. They will especially highlight the challenges of both globalization and regionalism and its impact on development and international cooperation.

The aim of "Bridges" is to facilitate and strengthen dialogue and communication between societies in Southeast Asia with their multiple cultures and faiths as well as with peoples in other parts of the world to promote understanding and trust. The events aim at building bridges through Nobel Laureates with local universities and other institutions in Southeast Asia to establish long-term relationships which result in common research programmes and other forms of collaboration.

By enhancing science, technology and education as a basis for peace and development the events may lead to a better cooperation for the advancement of peace, freedom and security in the region with the active involvement of the young generation, ASEAN's key to the future.

This is why "Bridges" is not designed as a onetime event, but as a continuing process of synergies to make the series of events a sustainable success for Vietnam and for Southeast Asia as a whole.

All "Bridges" events are open and free of charge for the general public and are made possible through the generous support of sponsors including most prominently the Jackie Chan Charitable Foundation, BMW Euro Auto, the Hilton Hanoi Opera and the Moevenpick Saigon Hotel, among others.