| | |
| --- | --- |
| | |
Grammy winner Ashkenazy and sons to play in Manila
www.lifestyle.inquirer.net, 23 February 2010
http://lifestyle.inquirer.net/artsandbooks/artsandbooks/view/20100301-255909/Grammy_wi...

WORLD-RENOWNED and much-revered pianist Vladimir Ashkenazy will be performing at the Cultural Center of the Philippines on March 11, in "Concert for a Culture for Peace."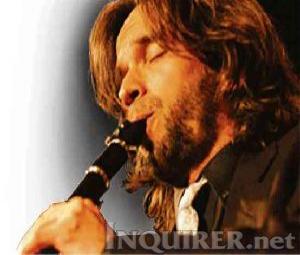 The event is a rare opportunity for music-lovers to witness his genius and artistry and offers the bonus of watching Ashkenazy perform with his two sons, clarinetist Vovka and pianist Dimitri.

To those who know their classical music, Vladimir Ashkenazy's name would bring on a loud pealing of bells as well as a wave of awe. He's a giant in the classical-music world, a Grammy Award winner for his recordings, who built an illustrious career as a pianist and later as a conductor of the best orchestras of the world.

He is formerly chief conductor of the Czech Philharmonic (1998-2003), and music director of NHK Symphony Orchestra in Tokyo (2004-2007).

In January 2009, he became principal conductor and artistic advisor to the Sydney Symphony Orchestra.

Childhood passion

In an interview via e-mail, Ashkenazy said his love affair with the orchestra began in his childhood. "I was totally fascinated by the symphony orchestra from childhood. I remember going to the Bolshoi Theatre at the age of 6. I spent all the time listening to the orchestra in the pit, and not looking at the ballet on stage. That's how it started. All my life I have identified with the symphony orchestra. I was delighted to play with an orchestra as a pianist. I played a lot of repertoire and amassed a tremendous collection of orchestral LPs, but I never thought I would conduct. So when the opportunity arose, I thought it was a real fulfillment of my life. I'm very lucky."

Ashkenazy continues to devote himself to the piano, these days mostly in the recording studio where he continues to build his extraordinarily comprehensive recording catalogue with releases such as the 1999 Grammy award-winning "Shostakovich Preludes and Fugues," Rautavaara's "Piano Concerto No. 3" (a work which he commissioned) and "Rachmaninov Transcriptions."

Most recently released are his recordings of that most challenging and enriching of works, Bach's "Wohltemperierte Klavier," and, released in June 2007, Beethoven's "Diabelli Variations."

"I don't have favorite composers. There are so many great composers that I would be very sorry not to be associated with, and I have a very wide range of affections in music. That's why you see a very extensive range of repertoire that I've played, conducted and recorded. I wanted to be a part of some of the great gifts in music from Bach to Sibelius."

Ashkenazy's Manila engagement is part of the third Asean event series, "Bridges-Dialogues Towards a Culture for Peace," facilitated by the International Peace Foundation.

"I have played in the Philippines only once, a long time ago, for a small music society in Manila, so I'm delighted to be coming again. I loved the people and atmosphere and, apart from the reason for doing this concert for such a good cause, I'm delighted to be back in this country which I like very much."

Accomplished sons

Both Ashkenazy sons are accomplished musicians like their father. Both have performed extensively around the world. Dimitri has appeared at the Royal Festival Hall in London with the Royal Philharmonic, and at the Hollywood Bowl with the Deutsches Symphonie Orchester Berlin.

Vovka Ashkenazy's debut was with the London Symphony performing Tchaikovsky's First Piano Concert.

Did he influence his sons to become musicians?

"No, never!" Ashkenazy said. "I left it to them to decide what they wanted to do—that's their decision. I explained everything that's involved in a musical career, the full range of circumstances, and left it to them to decide what they wanted to do. My wife and I always felt that it must be their decision. We explained all the benefits and pitfalls and left them to make up their own minds."

Said Vovka: "I grew up with the sound of the piano being a constant element in the home environment, and so it was almost inevitable that I would want to play the piano myself. I fell in love with the piano before I knew what it was."

Dimitri said that, with both their parents being pianists, "there was music all around the family all through my childhood and youth, so, both genetically and in my immediate environment, music was always a strong element in my life."

For the two younger musicians, it will be a first in the Philippines.

For their CCP concert, the Ashkenazys will play Schumann's Three Romances, Op. 94; Lutoslawski's Dance Preludes for Clarinet and Piano, (1954); Poulenc's Sonata for Clarinet and Piano, Op. 94; Schubert's Divertimento al'Hongroise, Op. 54 (to be played on two pianos); and Ravel's "La Valse."

Call the CCP Music Division at 832-1125 loc. 1605 or the CCP Box Office at 832-1125 local 1409 and 832-3704.