www.bangkokpost.com,


http://www.bangkokpost.com/print/33388/

Recently, the New International School of Thailand (Nist) gained certification in ISO 9001:2008 with TUV Rheinland under the scope of "Provision of Supporting Services for the Academic Division", the first for an international school in Thailand, says Jaemi Hodgson, the school's director of development. Also, Hollywood director, Oliver Stone, spoke at Nist recently. See photo and caption at left. To view Oliver Stones talk on video, visit http://www.youtube.com/user/NISTVideo .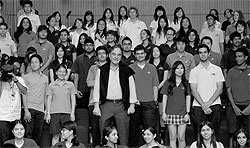 As a leading international school in Thailand, Nist has continually strived to improve its performance in all aspects. In addition to its academic certification with international standards accrediting agencies CIS and NEASC, Nist decided that the business side of the school should also be assessed for its quality of service with not only suppliers but parents and staff alike.

Therefore, Nist decided to seek ISO accreditation. The ISO process was introduced by the consultanting firm of Neville Clarke and implementation started in May 2009, when the school officially launched its "Quality Policy: Delivering Service Efficiency To Satisfy Customer Expectations Through Continual Improvement".

The main purpose of ISO accreditation is to develop a standard process for all functions in, initially, four departments: Purchasing, IT, Property and Human Resources. In each department, work procedures were documented and then internally audited for corrective action and improvements. As a result, Nist was able to implement an operations manual that is standardised and result-oriented.

Being one of the few leading schools with ISO accreditation, Nist expects to develop high standards across the school. The senior management team is sure that by having an efficient business system in place, it will enable the school to maximise the quality of services and constantly improve how the school is managed.

Nist is a fully accredited IB World School that offers all three IB Primary, Middle and Diploma programmes.

Published: 23/02/2010 at 12:00 AM
Newspaper section: Learningpost