www.thesoutheastasiaweekly.com, 26 November 2009


http://www.thesoutheastasiaweekly.com/?p=24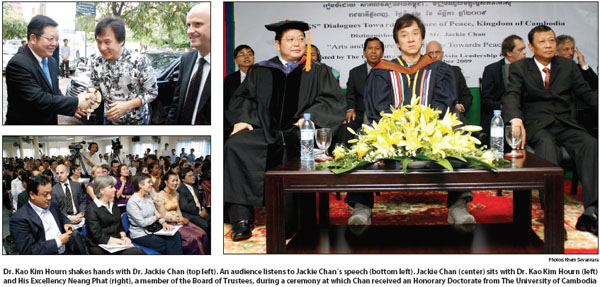 Jackie Chan, Chinese and Hollywood superstar, recently departed from Cambodia after a three-day visit, leaving his Cambodian fans with satisfaction and unforgettable memories of his third visit to the Kingdom of Cambodia. The visit of Dr. Jackie Chan was sponsored by the International Peace Foundation as one of a series of conferences titled "Bridges: Dialogues Toward a Culture of Peace," which are being held at and facilitated by The University of Cambodia (UC), a leading institute in Cambodia. Jackie Chan, known as Chhin Long among fans of Hong Kong film, also appeared in a live concert on November 10 at The Southeast Asia Television, where thousands of Cambodian fans enjoyed his performance with famous Khmer singers, including Preab Sowath, Meng Keo Pich Chenda and Him Sivorn. Dr. Kao Kim Hourn, Personal Advisor to the Cambodian Prime Minister Samdech Hun Sen, Secretary of State for the Ministry of Foreign Affairs and International Cooperation, and President of The University of Cambodia, appreciated the humanitarian activity of Jackie Chan and offered him an Honorary Doctorate degree during the conference at UC on November 11 at which Chan related personal experiences to the audience.