www.superchanblog.blogspot.com, 20 November 2009


http://superchanblog.blogspot.com/2009/11/my-early-films-send-wrong-message.html

Following on from comments Jackie made about Drunken Master during his speech in Thailand (See the video HERE) Jackie had the following to say:

With about 100 action films under his belt, kung-fu king Jackie Chan says he is not proud of all his movies and calls some of his early films "a mistake."

"It was a mistake to make 'Drunken Master'," Chan said Thursday about his 1978 blockbuster. "The film was all about getting drunk to fight. It misled the audience."

Chan added that he "tried to correct the mistake in the 1994 sequel which tells the audience to be tolerant."

The Hong Kong star was in Beijing to promote an online game spin-off of his new film "Big Soldiers."

"Most of the video games available today are about fighting and killing," Chan said. "This is not good for children. I hope by playing our game, youngsters will get a message of peace."

In the role-playing game, players can follow the development of the story in "Big Soldiers" about an old soldier who kidnaps a young general and takes him on a long journey to collect a reward.

Chan, who also wrote the story, took 20 years to complete the plot. He said the film is about lives during wartime and is a strong message that peace is priceless.

"Big Soldiers," in which Chan plays the soldier and singer-turned-actor Lee-Hom Wang portrays the young general, will open in Chinese cinemas next Valentine's Day, which is also Chinese New Year's Day.

Chan is also the film's producer, while Ding Sheng is the director.

The video spin-off will be released next month.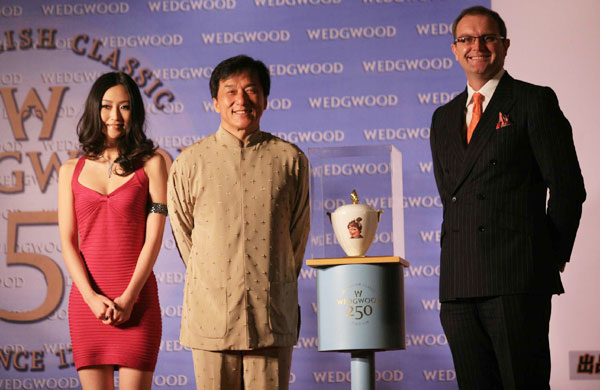 Source: CHINA.ORG.CN

In other reports Jackie said that the plot of Drunken Master was just about get drunk, fight.Then he had to write Drunken Master 2 which said 'Do not drink. Do not fight.' SINA.COM

Jinyang Wang - Yangcheng Evening News reported what Jackie had to say more comprehensively.


Lunar New Year film "Big Soldier" online games starting.

Jackie Chan: My early shoot a lot of lousy movies

Yesterday, Jackie Chan coming out their New Year starring film "Bi Soldier" of the online games premiere, recalls early days of the martial arts film comedy, Jackie Chan said that he then shot, "Drunken Master 1" is a mistake, because that's martial arts comedy did not have meaning, basically lousy movies.

Jackie Chan's self-criticism: "The last century, 70 years Hong Kong was a mess and I was young and fit, went out every day Lian Wan Kung Fu fighting, kick down the frame you'll regret it, for fear of other people killed or injured themselves will die. Later decision to turn away from crime on the home front was a 'forbearance' word every day to see, exhorted myself not to fight. this film is also the wish to allow their children to do online games away from the violence. "

Jackie Chan's early shot and then look at itself and a lot of lousy movies: "I had a martial arts film comedy quite meaningless, and the audience laughed looked on this value. Later, I again see the" Drunken Master 1 ", suddenly realized that making it the screenplay is a mistake, because that movie is the talk about the drunk fights, drunk and then fight again, so I was to beat "Drunken Master 2" is to redemption, that the main thrust of the script is not to drink alcohol, do not fight. Now I shoot a scene, the starting point of the whole is good, including "Baby Plan", although I played a thief, but finally repented of. "

Seven Little Fortunes will be the legendary story of a young man onto the big screen, rumors will be played when he was young Jaycee Chan Jackie Chan, Jaycee Chan earlier boasted that he is the only one in the world able to play his dad. Surprisingly, yes, Jackie Chan speech I do not agree with his son: "Jaycee Chan's too old! Speech I can only damage the image of my youth. In fact, looking for a casual Chinese Academy of Drama, you will find me, looks like , and why he came to speech.
Further more in this article from ENT.PEOPLE.COM
Jackie says that the vase will be auctioned off and the proceeds will be used for charity (Jackie Chan Foundation and Dragon's Heart). He also said that he will only make movies with a positive message of peace or environmental protection.

The start date for 'Chinese Zodiac' seems to have shifted to April LOL but at least it is finally firmly on the cards.


Yesterday, Jackie Chan brought the movie "Big Soldier" starring Lin Peng attended the same name, online games open beta release. Come and go in a hurry to rush Chan, said today he has every day for the charity run around in the future only the meaningful participation of shooting the film, "blind to play mischievous things I would not pick up, recall the time when Causing loss of lives , I really regret extremely. "

Jackie Chan is "Private Game" game prototype and voice, he announced the endorsement fee and all proceeds from the auction will be used for public welfare undertakings. "Today, I printed appearance of the head of the porcelain will be auctioned, all proceeds used for 'Dragon Seed Heart' Jackie Chan's Foundation funding, I would like to 'Operation Smile' to raise money for charity. As long as the bosses of large companies for public donations, they want me to site, the speech can be. "

Jackie Chan said the film "Big Soldier" crank up in February next year, in April he will start shooting new movie "Zodiac" tells the story of fake antiques auction, a little "Operation Condor" Treasure Hunt taste. Reason for choosing this subject matter, Chan said he wanted to appeal to world peace, and countries not competing interests in order to the border while causing loss of lives and ultimately hurt the civil population. "I'm a film and television work will focus on peace, environmental protection theme, I was a boy when the very sight of this, now think of it in particular regret." Chan said, young arrogant when power would go out every day to find someone to Lian Wan fought then get back on the other side is not worried about dead. But later, to self-reflection, Jackie Chan will be at home writing a big "evil" characters, and advised friends to be with and for your.

Chan said: "Now look past the" Drunken Master 1 "really rubbish, drunk, drink and went to fight the hero, playing 20 minutes walk, and then went on to play. At that time I did not culture, is very muddy, do not little wrong, but also played a lot of bad play. then I shot the "Drunken Master 2", in order to rectify past mistakes committed, not how Cookin had. in the future I will be more than making a meaningful movie, not blind Daxia funny of. "(Xinhua Wang Zheng)

And one last copy of the same news with a slightly different slant and information from NEWS.163.COM: in which Jackie talks about the need for peace, saying that you can choose your friends but you can't choose your neighbours and that disputes between neighbouring countries just hurt everyone. Once again Jackie said how quick it is to destroy and hard it is to build up. Rather build up and help each other than destroy each other!


BEIJING, November 19 (Xinhua Zhang Zai-lin) "Friends can pick, neighboring countries can not pick, what can be noisy, what can play?" Jackie Chan's brother today in Beijing Dafa feeling, difficult to quell regional conflicts on the major Table puzzled.

Was originally a Jackie Chan's movie "Big Soldier" online games to start the press conference the same name, has become an older brother to promote charities and peace in the big stage. In the nearly 20-minute personal interviews, he talked at the past few days in Singapore to participate in the activities of surgery for cleft lip and palate children, to help a number of large companies now do platforms to collect donations for their contributions to poverty-stricken areas in the Mainland, the more stress The more energetically, the slightest regard for the conversation back to host several online games up.

He laughed and said, "I attended an event for large enterprises, they gave me money, I do good things, this is not it?" Changing subjects, Chan said with a smile, "Oh, only the big brands, small brands I did not, the small brand I want to watch how much money they gave me. "Yubi, the audience heard laughter.

Talking, he began to reveal himself in April next year, will start shooting a new movie called "Zodiac." Content on China's national treasures on how to go out, how can get it back, similar to the "treasure hunt" story. Jackie Chan admits, inspiration from the recent auction of Chinese abroad, the first animal matter.

Jackie Chan and then referred to state to state, local and regional relationship between the "People say, friends, you can choose, but you can not pick neighboring countries, there is thousands of years, a few years, and there is nothing to be noisy, there is What could be playing? a dozen economy will fall, people would suffer, most importantly, recovery would take many years. "

"In some countries, three feet of the site, let hundreds of thousands of people suffering, what's the use?" He becomes clearer and excited, "between the State and national boundaries to what, the earth belongs to all mankind, the world needs peace, and environmental protection. "

Jackie Chan also spoke of her youth film "Drunken Master" is wrong, "has been playing the fight, there is no drama comedy, playing 15 minutes or fighting." He said frankly that if the original read the book, it will not shoot . But now has his own take to rectify the wrong thing, hoping to take some meaningful things.

The same day, Jackie Chan's movie "Big Soldier" with the same name to start online games to start the ceremony, he and "Private Game" Nvyi Hao Lin Peng, the British Embassy Counselor ALASTAIR Morgan, the game Chupin Fang Zhang Rongyao SMART THINK attended to congratulate the president.
Last but not least Jackie accepted a donation cheque from the organisers for 3 million RMB(?) SINA.COM

Several nice photos of the event HERE

Video HERE