www.nationmultimedia.com, 11 November 2009


http://www.nationmultimedia.com/2009/11/11/politics/politics_30116304.php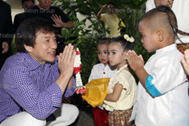 One is the world-class martial arts actor from Hong Kong, Jackie Chan, and the other is the fugitive politician from an undisclosed location, but very close, Thaksin Shinawatra.

The two have contrasting backgrounds and intentions but both claim they will speak only good things to Cambodians.

Chan will deliver the keynote address in the Peace Foundation's "Bridges" series on Wednesday. His talk on "Arts and culture as a pathway towards peace" is scheduled to be held at the University of Cambodia.

The next day, former prime minister of Thailand Thaksin will lecture to a forum of some 300 economists from the public sector, hosted by Cambodia's Ministry of Economy and Finance. Thaksin will discuss a "Strategy to Fight the Financial and Economic Crisis" on Thursday.

People in Cambodia expect different things from the two different guest speakers who would appear at different forums for different purposes.

Chan will talk on peace, which Cambodia is about to reach now, while Thaksin will show them how to develop a good economy, which this country is still far from reaching.

Thaksin's arrival in the capital is the talk of the town here. People love to discuss the topic if they know the foreign guest is a Thai.

Immigration officials who usually are not so friendly to journalists gave a quick clearance to Thai reporters who told them that they came to cover Thaksin's story. All media were allowed to witness Thaksin's landing and took pictures when he got off the plane at Pochentong airport. His plane was allowed to park at a military base at the airport.

Heng Ly, a taxi driver, said he liked both Thaksin and Cambodia's Prime Minister Hun Sen, who he believes could make the Cambodian economy get better.

Thaksin could help Cambodia to become rich like he did for Thailand years ago, he said with high hopes.

Nobody here wants to discuss Thaksin's corruption as they say it's a Thai problem. Cambodians are also familiar with the case but don't want to talk about it now.

Thaksin's presence in Cambodia has raised tensions in Thailand but nothing like that would likely be seen in Phnom Penh as residents here are still friendly with Thais.

A local media colleague said this time is absolutely different from 2003 when a rumour sparked anti-Thai sentiment and an arson attack was launched on the new Thai embassy.

This time Prime Minister Hun Sen has stepped forward and kept the conflict with Thailand only at the government level, he said.

Cambodians know those who stirred up the conflict over Preah Vihear Temple are in the current Thai government and Hun Sen told his citizens that he would deal with those people by himself.

Economic retaliation by Thailand wouldn't be really painful, said Heng Sring, a motorcycle shop owner. "Yes, we import a lot of motorbikes from Thailand but now we have a lot of choices from other countries too," he said.

"We don't expect Thailand to seal the border to block goods but if your government really tries that, we won't get hurt anyway," he said.

Life in Phnom Penh goes on as usual. Ordinary people do not care much about the dickering between the two governments. Hun Sen can deal with it, they say.