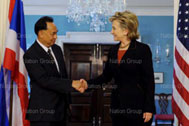 US Secretary of State Hillary Clinton has expressed confidence in Thailand's political stability and pledged to attend the Asean Ministerial Meeting and Asean Regional Forum in July, Foreign Minister Kasit Piromya said yesterday.
Clinton hoped the government would be able to restore stability soon and Thai democracy would grow properly, he said.

Kasit briefed Clinton on the political situation in Thailand, telling her the government was pursuing national reconciliation and would amend the 2007 Constitution to make it more democratic.

"Mrs Clinton has expressed her confidence in what Prime Minister Abhisit Vejjajiva is doing and where he is leading Thai society," Kasit told reporters in a telephone conference from Washington.

Kasit met Clinton during his official visit to Washington this week to boost bilateral ties. They also discussed regional issues, including Burma and the relations between Thailand and Cambodia.

Kasit urged the US to review economic sanctions against the Burmese junta, since they hurt the Thai economy, notably the jewellery industry, which imports stones from Burma.

The movements of former prime minister Thaksin Shinawatra were not discussed, Kasit said, since US Ambassador to Thailand Eric John might already have reported the situation in the Kingdom to Washington.

Meanwhile in Bangkok, visiting American human-rights activist Jesse Jackson voiced support for the government's efforts towards national conciliation and political reform, Abhisit said.

Jackson compared Abhisit with US President Barack Obama for international sophistication and wide vision and urged reform in Thailand be as inclusive as possible.

Abhisit briefed Jackson on his goal of restoring international creditability, solving the economic crisis and ending political conflict within a year.

He said the key to success was the role of the legislative body and that the government would be able to achieve its goals if MPs fully cooperated.