www.malaysianbar.org.my, 24 April 2009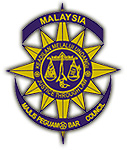 While economic development is usually dependant on political stability, in the new world order it also means that economic growth and long-lasting peace cannot be realised if the basic tenets of human rights and democracy are not respected.
Jesse Jackson during Lecture Series at Sime Darby Convention
Centre, KL.
American civil rights icon Rev Jesse Jackson said Malaysia has a lot of potential as an economic superpower but can go further if it continues to uphold the principles of democracy.
"Part of what makes Malaysia great is that it has a stable democracy. And the elections and peaceful transition of power show that," he said when met in his hotel here today.
Jackson, 67, was leaving for Bangkok after a four-day lecture tour organised by the Bridges-Dialogues Towards a Culture of Peace, an ambit of the International Peace Foundation which organises dialogues and lectures by Nobel laureates as well as those like Jackson with the potential of winning the Nobel Prize.
Perak Regent Raja Dr Nazrin Shah and former deputy prime minister Tun Musa Hitam are honorary chairman and chairman of Bridges respectively.
"You can have economic development if you have political stability but if this country has a stable government but at the same time embraces democracy and democratic outcomes, this will be one of the greatest nations in the world," said the founder and president of the Rainbow/PUSH Coalition which advances equality and civic freedoms.
Jackson ran two presidential campaigns, though unsuccessful, had opened doors and brought down prejudices which many analysis say had enabled Barack Obama to become the first ethnic minority president of the United States.
Jackson however was concerned that in spite of Malaysia's economic and social successes, little is known about this nation.
"People know Vietnam because of the war, Singapore as a financial capital, Japan of course, maybe even Thailand but Malaysia sits off the radar," he said.
In this regard, he has invited Foreign Minister Datuk Anifah Aman, as well as several corporate personalities, to a business roundtable in Chicago in July.
"What a great opportunity it would be to tell people about Malaysia! I am so glad to be invited here and to tell everyone about this piece of sunshine," he said.
Jackson said his visit to several manufacturing plants was akin to witnessing the fruits of former prime minister Tun Dr Mahathir Mohamad's focus on education.
"This is a very educated population, and one sees the results as Malaysia is among the fastest growing nations. I spent a lot of time with Mahathir. It's enormous what he has done for this country.
"From a largely agricultural community to now microchips and laptops, this is one of the great countries in the world," he said.
Jackson quipped that in the future one cannot have a G20 meeting based on the old arrangement but a G200 meeting.
"A country such as Malaysia must be at the table ... this is no longer an Asian tiger but a South East Asia roaring lion in terms of economic growth!"
Jackson said he is confident that Prime Minister Datuk Seri Najib Abdul Razak will continue with the right policies of pursuing economic growth and at the same time preserving democratic principles.