New Straits Times, 21 April 2009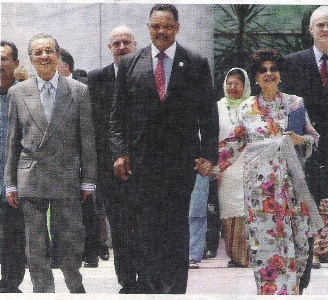 PUTRAJAYA: Efforts to stimulate the global economy wifi have better results if they are directed at poorer sections of society.
Rev Jesse Jackson Sr, president and founder of Rainbow/PUSH Coalition, said: "If we direct our reconstruction to those at the bottom, their pentup demand wifi drive the global economy and stimulate our global recovery."
He was speaking at the Second Mean event series "Bridges-Dialogues Towards a Culture of Peace" here.
Towards this end, Jackson suggested that a larger international platform like a "G200" rather than the G20 might be better. Jackson, who was once an assistant to Dr Martin Luther King Jr, urged countries to rebuild their international, foreign and economic policies as well as reconstruct international institutions to make them more coop - erative and inclusive.
"We need a global economy based on human rights and one that is based on one set of rules for the privileged as well as the poor," he said.
"We must build a new green economy to create jobs, wealth, protect the earth and sustain our species. This is not only the moral way to go, it is smart economics."
Ainong those at the event were Raja Muda of Perak Raja Dr Nazrin Shah and wife Raja Puan Besar Tuanku Zara Salim, former prime minister Tun Dr Mahathir Mohamad and his wife Tun Dr Siti Hasmah Mohd Ali.