The Star, 21 April 2009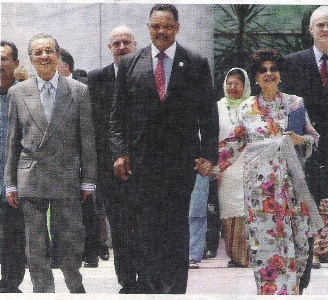 It's not a question of winning or losing, says former premier.
SEPANG: Barisan Nasional's decision whether to contest in the Penanti by-election should not be based solely on its chances of winning.
"It is not a question of winning or losing," said former prime minister Tun Dr Mahathir Mohamaci yesterday.
"It is true that we are the underdogs there but we also cannot neglect our own supporters."
Dr Mahathir, who is Perdana Leadership Foundation Honorary President, was speaking to reporters after attending the Bridges— Dialogues Towards a Culture of Peace session organised by the foundation and the International Peace Foundation at the Multimedia Unversity (MMU).
He said Barisan should be aware of Pakatan Rakyat's tricks as the Opposition was interested in just using the by-election as a means to impress the people by showing them just how many times the Opposition could beat Barisan.
Asked if Barisan would end up giving the Opposition what it wants if the coalition lost in the by-election, he said it might but it would depend on how the party put across its arguments.
Also present were Bridges Honorary chairman Raja Nazrin Shah and his wife Raja Puan Besar Perak Tuanku Zara Salim, International Peace Foundation chairman Prince Alfred of Liechtenstein and MMU chancellor Tun Dr Siti Hasmah Mohd Ali.
American civil rights and political activist Rev Jesse Jackson, who delivered the keynote address at the dialogue session yesterday, said it was important to resolve the Palestine issue before it poisoned the region and the world.
Jackson, who is also Rainbow/PUSH Coalition president and founder, said it was important to resume discussions for peace in Gaza and this would only be possible by getting Israel and Palestine back to the discussion table.
He also said there was a need to change the way decisions that affected the whole world were made as currently only a small number of countries decide for all the nations in the world.