BusinessMirror, 16-17 January 2009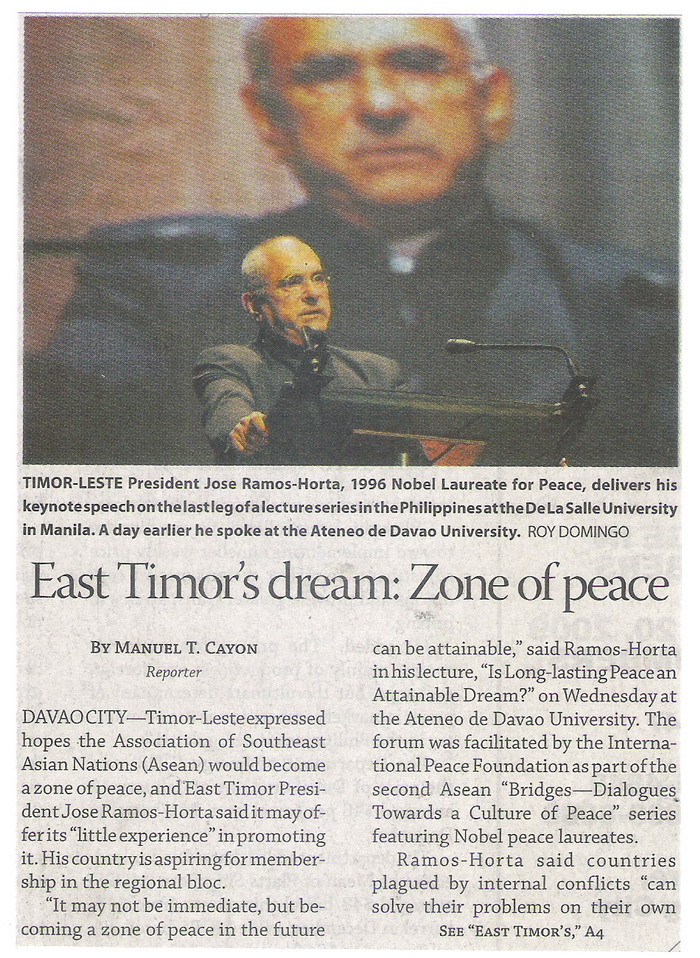 and should not solely rely on outside help…Outside help, though, may be allowed and welcomed, but countries should learn to keep the faith and trust in their ability to solve it by themselves. It would be the people themselves who must determine to resolve the conflict."
The problems in the Asean region "can be resolved with wisdom and humility, and not just by rhetoric…In many cases, we just have to step back and stop talking and talking for a while to listen to our people. We don't want to expunge their views."
The flashpoints of conflict in Asia include the dictatorial rule in Burma, the former trouble in Aceh in Indonesia, the Moro conflict Mindanao, and the insurgency in Southern Thailand.
The Philippines has pushed for the membership of Timor Leste in Asean, and Ramos-Horta is "grateful" for this insistent effort "even though one or two other Asean members are skeptical."
"Why do we want to join Asean? Aside from being in here, we want, through the active and genuine diplomatic efforts, to witness the region become ultimately a zone of peace," he said.
Ramos-Horta said Timor Leste has tapped the network of non-government organizations, including the Catholic Church, in its rebuilding, although he admitted relying on foreign assistance for major parts of its rebuilding.
However, he added that donor-countries may be partly to blame for the slow rebuilding or recovery of poor countries because donor-countries are not spending much on poor countries.
"I told donors, what do they have for East Timor in 2000, in 2001? I appealed to them to help us in the post-conflict situation, he said. "Remember one thing: Peace has to be paid, it has to be bought, maybe not in the sense or understanding that we have about aid, about cash that you are referring" but in the cost of structures, organizations, etc.
"But [Timorese] who can, those who have resources, should be patient, and invest. I don't think the [foreign nations development] aid will address the root cause of the conflict, the root causes of poverty," he said.
The "problem with donors, in Timor Leste or in Afghanistan, overall, the so-called donor money, were not actually [used]. The maximum is only 30 percent that were applied in our country."